Six-Figure Freelancer:
How to Find, Price, and Manage
Corporate Writing Assignments
FOURTH EDITION

Revised & Improved! With more ideas, more detail, more examples, more inspiration and more exercises to get you started and keep you going!
---
Paul Lima was a busy technology freelance writer, earning a six-figure income, during the dot-com boom. When it went bust, so did many of his Information Technology corporate clients. Paul developed new business and marketing plans and within 18 months he was as busy as he was during the height of the dot-com boom. Today, he is now performing a greater variety of tasks for more clients than ever before!
To help freelancer writers create a personal road map to business success, Paul created a workshop based on his experiences. He has now turned his popular workshop into Six-Figure Freelancer.
"Your expert plan, as outlined in your book, has demystified the marketing and other business aspects of writing for me. I find your instructions to be straight forward, informative, and valuable." - Bonnie Zink, Corporate Writer, Researcher, and Editor.

Focusing on writing for corporate markets (including businesses, associations, government agencies, non-profits and other organizations), Six Figure Freelancer demonstrates how to plan and market your way to freelance writing success.
This book demonstrates how to:
Turn desire, dedication, discipline into a successful freelance business
Manage your time productively
Develop a business vision
Create business and marketing plans based on your vision
Identify types of writing you can do for the corporate market
Define and validate your writing services
Identify corporate sectors you can write for
Find companies and contacts within targeted corporate sectors
Systematically market your writing services to contacts within corporate, non-profit and/or government sectors
Write pitch letters
Generate new and repeat business
Network with friends, associates and groups
Harness the power of the Web
Price your corporate writing services and issue accurate quotes
Manage the writing and approval process
Manage relationships with corporate clients
Continually generate repeat business
---
Reviews
"This book delivers an exciting message: Freelance writers can make a good living! I urge any freelancer struggling to make ends meet to get Paul Lima's down-to-earth book, study it, and do what it says. You will look back and realize this was a turning point in your writing life." – Gordon Graham, past-president, Professional Writers Association of Canada
"Paul Lima proves that with focus, planning and confidence, success as a corporate freelance writer is possible. If you want to start a corporate writing business, you need to read this book." – Elizabeth Cockle
"The wisdom in Paul Lima's books made my dream of being a mompreneur come true. His practical freelancing tips helped me build a business around my passion for writing and editing. Thanks to his creative exercises and methodical approach, I landed corporate clients and publication work, and I feel exhilarated!" - Lisa Goller

"After reading the section about emails and lost time, I moved more than 1,750 emails in my inbox to organized folders within my inbox. My inbox, after almost five hours of work, is completely empty. Every night, I empty my inbox. I also have a new policy of replying to every email I get within 24 hours. I am saving a bunch of time there for sure, procrastinating a little less, and being more efficient." - Rod in Toronto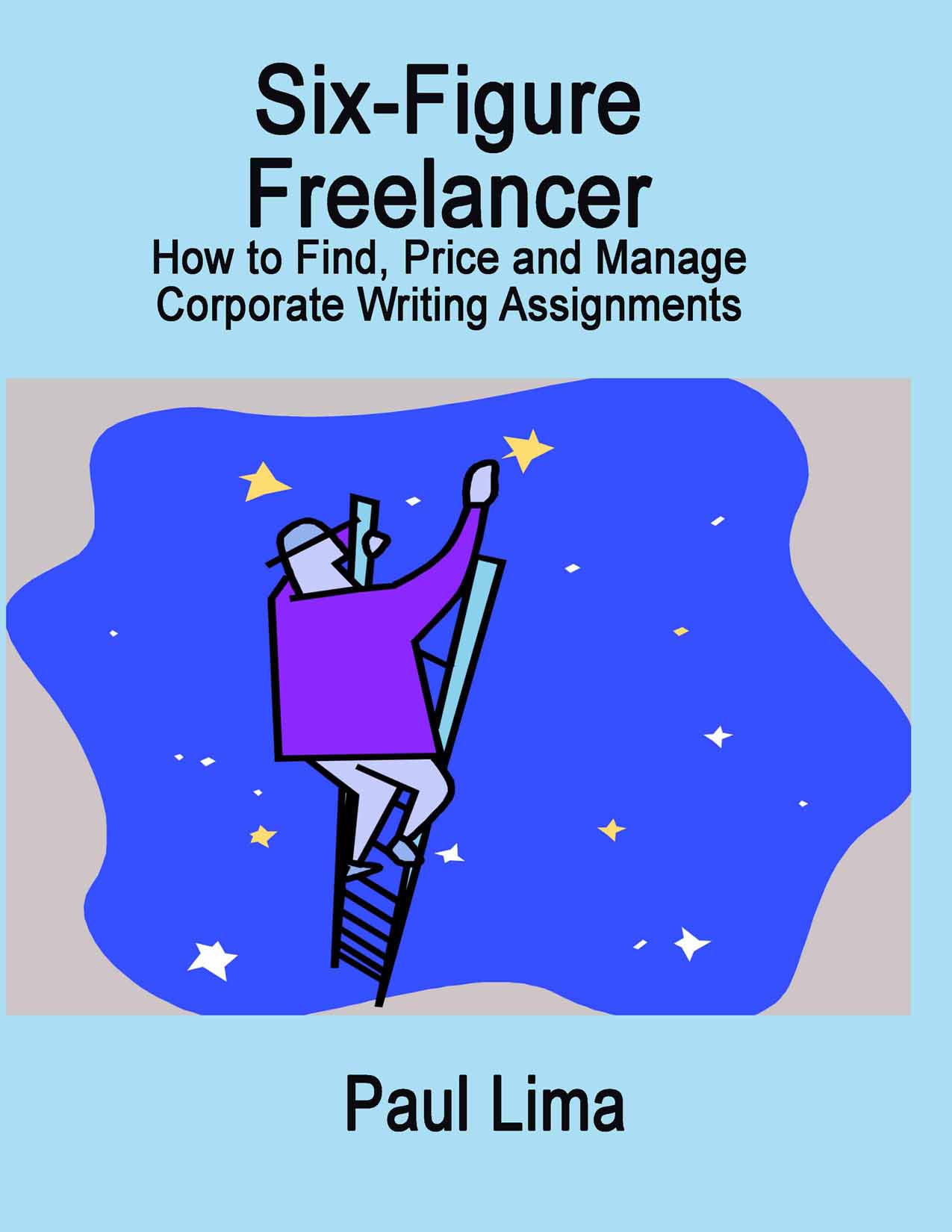 Chapters


Part One: Getting Started
Chapter 1: What Freelance Writers Do
Chapter 2: Reality Check & Getting Started
Chapter 3: Time Management
Chapter 4: The Twin Fears
Chapter 5: Introduction to Clustering
Part Two: How to Find, Price and Manage Corporate Writing Assignments
Chapter 6: Business Vision
Chapter 7: Do the Math, Again
Chapter 8: Corporate Market Services
Chapter 9: All About You
Chapter 10: Corporate Sectors To Target
Chapter 11: Business Plan
Chapter 12: Five Marketing Arrows
Chapter 13: Generating Repeat Business
Chapter 14: Networking Your Way to Success
Chapter 15: Advertising and Promotion
Chapter 16: Cold Calling and Direct Mail
Chapter 17: Cold Calling: Mail, E-mail, Phone
Chapter 18: Sample Pitch Letters
Chapter 19: Online strategies
Chapter 20: Marketing Plan: Big Picture
Chapter 21: How Much to Charge?
Chapter 22: Accurately Price Writing Services
Chapter 23: Managing the Process
Chapter 24: Cold Call Tips; Final Notes
---