Fundamentals of Writing:
How to write articles, media releases, case studies,
blog posts and social media content
---
"Fundamentally, Paul Lima's

Fundamentals of Writing

is a must have for every writer. If you write, this book belongs on your library shelf. It will get you writing news and feature leads and articles that can be used in periodical or corporate environments. And then it builds on that base as Lima introduces you to writing media releases, case studies, blog posts and tweets."
- Arnold Hammer, freelance writer
Fundamentals of Writing is a book written specifically for those who want to improve their writing skills and apply them to writing articles (for newspapers, magazines, and corporate publications), media releases, case studies, blog posts and social media content.
The book is based on several writing courses that I teach online for University of Toronto continuing education students and for private students and corporate clients. And it is filled with samples, examples and exercises to get you writing.
Fundamentals of Writing is for you if you are looking to do any of the following: become a more effective writer; organize your thoughts before you write; write for a defined audience; make your points in a clear, concise, focused manner.
My hope is that this book will help you effectively structure your written communication when writing articles, media releases, case studies, blog posts and social media content.
Paul Lima's Fundamentals Of Writing is a practical guide that has helped me immensely upgrade my writing projects. Whether you are looking to express an idea in a short blog post or working to complete a thesis, Paul clears the path for you, from the preparation stage to revision, bringing you a great sense of accomplishment and confidence throughout the whole writing process. This book is definitely a must-have if you want to write better" - Damian Roiz, author - damianroiz.com/
---
About the Author


As someone who has been writing for over 40 years, has been paid to write for over 35 years, and has taught writing for over 25 years, Paul Lima knows what it takes to write articles, media releases, case studies, social media content, blog posts and even tweets.

Now retired, he taught business writing and business of freelance writing courses for the University of Toronto, wrote business and promotional documents for corporate clients, conducted business and promotional writing workshops for clients, and was a freelance journalist for over a decade.

The author of 20 books, including the best selling

How to Write a Non-fiction Book in 60 Days

, five of his books are now used as university/college textbooks.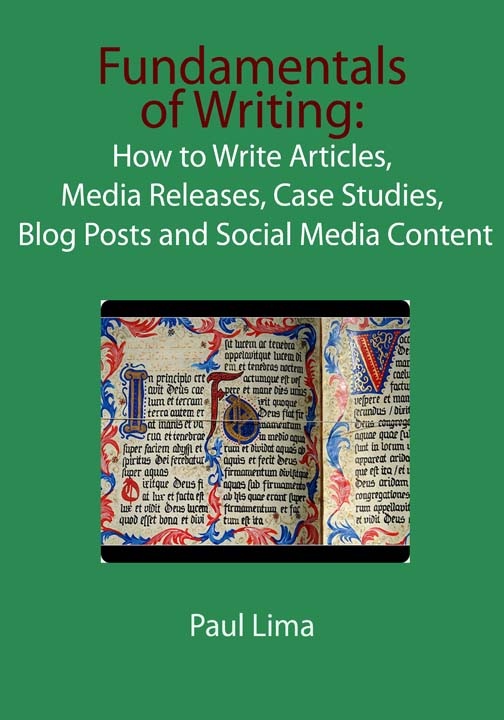 Contents


Introduction
1/
The Importance of Creativity

2/
Communication Process

3/
Pleased to Meet You

4/
The Writing Process

5/
Outline Before You Write

6/
The Three Cs of Writing

7/
Before Writing Articles

8/
Overview: Types of Articles

9/
Writing Article Leads

10/
Full News Articles

11/
Soft Articles and Leads

12/
Feature Articles and Leads

13/
Writing Media Releases

14/
Writing Case Studies

15/
Social Media

16/
Writing Blog Posts

17/
Constructing Sentences

18/
Paragraphs and Transitions

Appendix I: Full Articles

Appendix II: Case Study