Copywriting that Works
Bright ideas to help you inform, persuade, motivate and sell
- 4th and 5th editions

---
If you want to master the craft of writing advertising and promotional copy that informs, persuades, motivates and sells, then this book is for you. It will guide you through the process of producing copy that works - no matter your objective or target market.

From branding to hard sell, from print ads to direct response marketing, from Google ads to website and social media copy, Copywriting That Works ... works!

Designed for a University of Toronto continuing studies course, the book will show you how to:
develop concepts that command your target market's attention;

write headlines, body copy and calls to action that hit your mark and meet your objectives;

apply creative and linear copywriting concepts to newspaper and magazine ads, direct response brochures and to Google ads for Web copy and social media, including blogs.

In a step-by-step approach, this practical, easy-to-follow book shows you the importance of: determining your purpose, defining your target market, knowing your unique selling proposition before you write, and differentiating between brand awareness and hard sell and between features and benefits.

In addition, Copywriting That Works includes a bonus chapter on how to optimize websites for the best Search Engine results.
"I recently took a marketing writing course, and I've learned more in the first 10 pages of Paul's book than I learned in 8 weeks, twice a week, on the course."
- Lisa MacColl, freelance writer

"Paul Lima's Copywriting information was like getting new lead in my pencil! The book is engaging and informative, as Paul shares his writing process and techniques for tapping into the creative juices. Writing's fun again! And effective."
- Stephanie Miller, MillersCraft

If you want to master the craft of writing advertising and promotional copy, then Copywriting That Works is the place to start!
Bookstores, educational institutions and libraries: order the book through Ingram Book Company (ISBN: 978-0-9809869-7-6).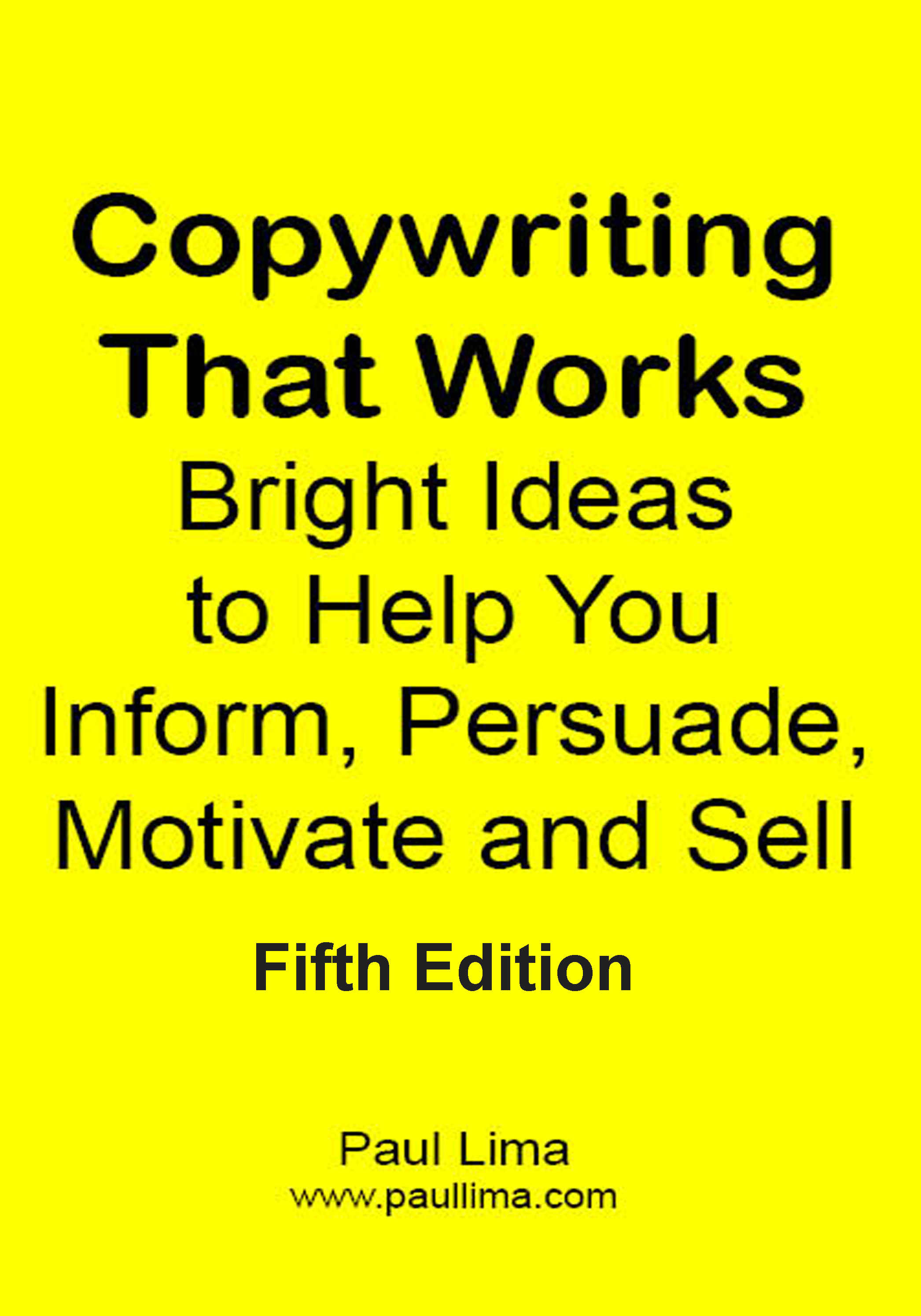 Contents
Chapter 1: Getting Started
Chapter 2: How the Ad Industry Works
Chapter 3: The Importance of Creativity
Chapter 4: Copywriting and W5
Chapter 5: The Writing Process
Chapter 6: Target Market & Headlines
Chapter 7: The Tip of the Iceberg
Chapter 8: The Base of the Iceberg
Chapter 9: Headlines and Copy Blocks
Chapter 10: The Poetry of Copywriting
Chapter 11: Advertising's Environment
Chapter 12: From Branding to Hard Sell
Chapter 13: Writing Copy
Chapter 14: The Communications Process
Chapter 15: Direct Response Marketing
Chapter 16: Direct Response Sales Letter
Chapter 17: DRM in Action
Chapter 18: Brochure Writing Process
Chapter 19: Web-based DRM
Chapter 20: Search Engine Optimization
Chapter 21: Search Engine Pay Options
Chapter 22: Copywriting and Social Media
Chapter 23: Copywriting and Blogs
Chapter 24: Questions to Ask a Client
Chapter 25: Ad Bloopers
Chapter 26: Case Studies
Chapter 27: Appendices


Other books by Paul Lima