Family Tree
A Novel Spanning 17 Centuries
The story is fiction. But the history is real!

---
If your idea of history is 2+2=4... think again. In Family Tree a white woman born in Saxony but living in Britain becomes a black man born in Toronto but living in San Francisco. It only takes 17 centuries for the transformation to happen as you get to follow one family line from 400 AD to the present, through seven countries -- Saxony, Britain, Scotland, America, Canada, Germany and... Valhalla.
Family Tree chapters alternate between past and present, starting with Arlyss and Sigeburg and their daughter Megan in 400 AD Saxony and jumping to the Alden family, having just moved from Toronto, Canada to San Francisco, California in 2015. As we progress through the book, the past catches up with the present.
In this dual time-line tale, modern technology unravels an intriguing history -- major events in the history of western civilization -- the family line is involved in. From fighting in Britain for the Romans, to fighting in Britain against the Romans. From fighting for various kingdoms in Britain against the Danes and Vikings to fighting for the kingdom of Britain against the Scots and French. From fleeing to the New World to escape religious persecution in Britain to fleeing to Canada from America during the American Revolution. From trying to enlist to fight in WWI to fighting in WWII. From working in a grocery store in Toronto to working for a leading DNA company...
Corey Alden has taken a job as the IT Director with Ancestry Discovery, a DNA testing company in San Francisco. He plants an Oak tree in his front yard that he has moved from Toronto. The Oak tree was started from acorns passed down through his family line for over 17 centuries. As part of his job, Corey, an only child of parents who were only children, gets his DNA tested--with shockingly unexpected results. His daughter Ashley gets her DNA tested and discovers connections that can only mean her mother, Indira, who thought she was an adopted only child, was... Well, I don't want to spoil it for you!

Through it all, the Saxon gods, Jörð and Odin, have a running bet about how long the family tree will continue to be passed forward and how long the family line will last.
Beta Readers React
"Family Tree is historical, mystical, dramatic, humorous and moving. And it's all combined, from start to finish, in a manner most engaging." - Bethany Bower
"With mythical beginnings, Family Tree follows the stories of a family line that stretches back centuries touching on themes of family connection, bigotry, sexual preferences, health challenges, and love. It motivated me to ask myself the question, 'Does my connection to mankind and the earth encompasses more than DNA?'" - Laima Stem

"With DNA testing, we have been given a new tool to make connections to those with whom we share a past. Sometimes it seems like magic. Take some of that magic, mix it with some serious genealogy, and you have a novel of history, mystery, fantasy and fun. Lima has a firm grip on the present, and has done the research to bring the past to life. His present day characters are people you will get to know, and like; you will cheer for them as they discover who they are in the grand scheme of life." - Gabriele Pulpan

"Family Tree is a completely fresh idea about something as old as time. I hope somebody makes it a movie!" - G. Froehlich
- "I love historical fiction, and Family Tree is now on my 'I love' list!"
- "You might think a book that spans over a seventeen hundred years would lose its thread. But the structure of Family Tree keeps the book focused in the present, while the past builds up to that present!"
- "Solid story. Great characters, including the goddess, and the god."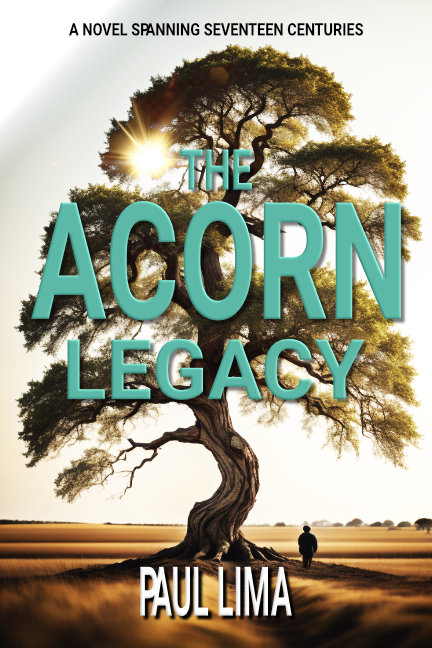 Prologue: Saxony: 300 AD
Chapter 1: Saxony: 400 AD
Chapter 2: San Francisco & Toronto: 2015
Chapter 3: Saxony: 400 AD
Chapter 4: Toronto & San Francisco: 2015
Chapter 5: Britain: 400 AD
Chapter 6: San Francisco: 2015
Chapter 7: Britain: 420 AD
Chapter 8: San Francisco: 2015
Chapter 9: Britain & Scotland: 600 AD
Chapter 10: San Francisco: 2015
Chapter 11: Britain: 1100
Chapter 12: San Francisco: 2015
Chapter 13: Britain & Plymouth: 1215
Chapter 14: San Francisco: 2015
Chapter 15: Plymouth: 1620
Chapter 16: San Francisco: 2015
Chapter 17: Plymouth, Boston & Halifax: 1674
Chapter 18: San Francisco: 2015
Chapter 19: Halifax & York: 1797
Chapter 20: San Francisco: 2015
Chapter 21: York/Toronto: 1831
Chapter 22: San Francisco: 2015 - 2016
Chapter 23: Toronto: 1890
Chapter 24: San Francisco & New York: 2016
Chapter 25: Toronto & Dresden: 1936
Chapter 26: Dresden: 2016
Chapter 27: Toronto: 1967
Chapter 28: San Francisco: 2016
Chapter 29: Dresden: 2023
Chapter 30: Valhalla
Chapter 31: Dresden: 2025
Epilogue: Valhalla
Appendix 1: Emancipation Day recognizes end of slavery in Canada
Appendix 2: Prime Minister apologizes for anti-Black racism experienced by No. 2 Construction Battalion
End Note
About the Author


If you want to be notified when the book is available (Nov 2022), email paullima.com@gmail.com and ask to have your email address added to the email list! You will receive NO spam. Promise!
Other books by Paul Lima