Family Tree
An Historical Novel Spanning 17 Centuries

If you want to be notified when the book is available (estimated early 2022), email paullima.com@gmail.com and ask to have your email address added to the email list. (You will receive NO spam. Promise!)
---
If your idea of history is 2+2=4, then think again. In Family Tree you'll see the evolution of a gay white female who lives in Saxony, as she turns into a straight black man who lives in San Fransisco. Family Tree is not sci-fi or fantasy. It is an historical drama that follows the evolution of one family line, and the Oak tree that binds that line together, over 1500 years.
Family Tree starts with the Alden family having just moved from Toronto, Canada to San Francisco, California in 2015. The father, Corey, has taken a job as the IT Director with Ancestry Discovery, a DNA testing company. He plants a sapling Oak tree that he has moved from Toronto in his new back yard. The Oak tree was started from acorns passed down through his family line for over 1500 years.

His wife, Indira, a nurse, is not eligible to work in America. However, she starts to work as a volunteer at Saint Francis Memorial Hospital, a not-for-profit community hospital. The Corey's daughter, Ashley, has enrolled in the University of California-San Francisco in the undergraduate science and languages programs.

As part of his job, Corey gets his DNA tested, with totally unexpected results. His daughter, Ashley gets hers tested and discovers connections that can only mean her mother, who thought she was an only child in India and adopted by a Canadian family, is not an only child. Indira's DNA tests confirm Ashley's results.

We flash back to 400 AD when acorns from a magestic Oak tree are passed on from parent to child for the first time. The novel's chapters alternates between 2015, as the Aldens investigate their roots with chapters move forward from 400 AD as we trace Corey's family line to it's present day, and make an unexpected connection to its past in present day Germany.
Family Tree: Chapter One
To come...
Paperback*




Amazon.ca: $CND


Amazon.com: $US


Amazon UK:





eBook*


Amazon.com:

Kindle




Amazon.ca:

Kindle


Amazon UK:

Kindle


Kobo.com:

ePub




Lulu.com:

PDF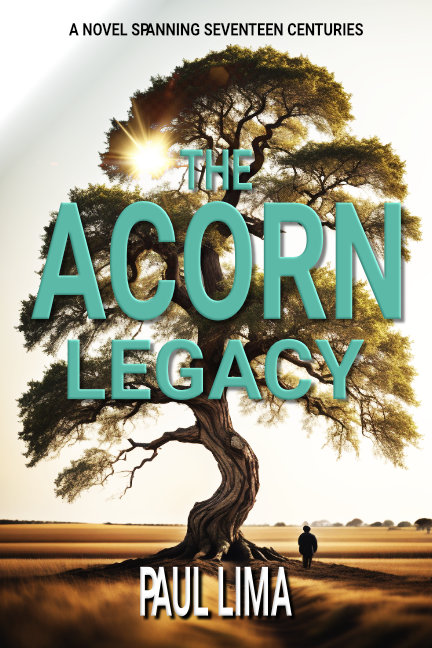 To Come...


If you want to be notified when the book is available (estimated early 2022), email paullima.com@gmail.com and ask to have your email address added to the email list! (You will receive NO spam. Promise!)