Business of Freelance Writing:
How to Develop Article Ideas and
Sell Them to Newspapers and Magazines, Conduct Interviews and Write Article Leads


"I just sold my third feature to a national magazine this year, using your guidelines." - Judy Scott



Do you want to earn a living as a freelance writer? Can you imagine yourself working from home, selling your articles to newspapers, magazines, trade publications, and Web sites? If so,

Business of Freelance Writing

, by Paul Lima, is for you.

Business of Freelance Writing shows you how to develop article ideas, write query letters, pitch your ideas to the right editor at the right publications, and follow up on your queries. It outlines everything you need to know to negotiate the sale of your work with editors who say "yes" to your ideas.

It also reveals how to conduct effective interviews and shows you a variety of ways to write article leads.


Step-by-step approach, the book shows you how to:
Turn desire, dedication, discipline into a successful freelance business
Understand how the freelance writing business works
Develop article ideas
Write effective query letters
Sell your ideas to newspapers and magazines
Negotiate writing assignment details and fees
Conduct background research
Conduct effective interviews
Write strong article leads
Set up and organize your freelance business
Continually generate repeat business
Business of Freelance Writing chapters include:
Part One: Getting Started:
Chapter 1: What Freelance Writers Do
Chapter 2: Reality Check & Getting Started
Chapter 3: Time Management
Chapter 4: The Twin Fears
Part Two: How to Develop Article Ideas and Sell Them to Newspapers and Magazines
Chapter 5: Know Your Editor and Audience
Chapter 6: Do the Math
Chapter 7: Clustering Introduction
Chapter 8: Article Ideas: Developing Your Own
Chapter 9: Discovering More Article Ideas
Chapter 10: Building Your Portfolio
Chapter 11: Querying Editors: Overview
Chapter 12: Sample Query Letters
Chapter 13: More Sample Query Letters
Chapter 14: 20 Rules for Writing Query Letters
Chapter 15: Multiple Submissions/Follow Up
Chapter 16: Writing Article Leads
Chapter 17: Soft and Feature Article Leads
Chapter 18: Finding Markets
Chapter 19: Idea Acceptance: Now What?
Chapter 20: Research and Interviews
Chapter 21: Copyright and Business Issues
Chapter 22: Additional Query Letters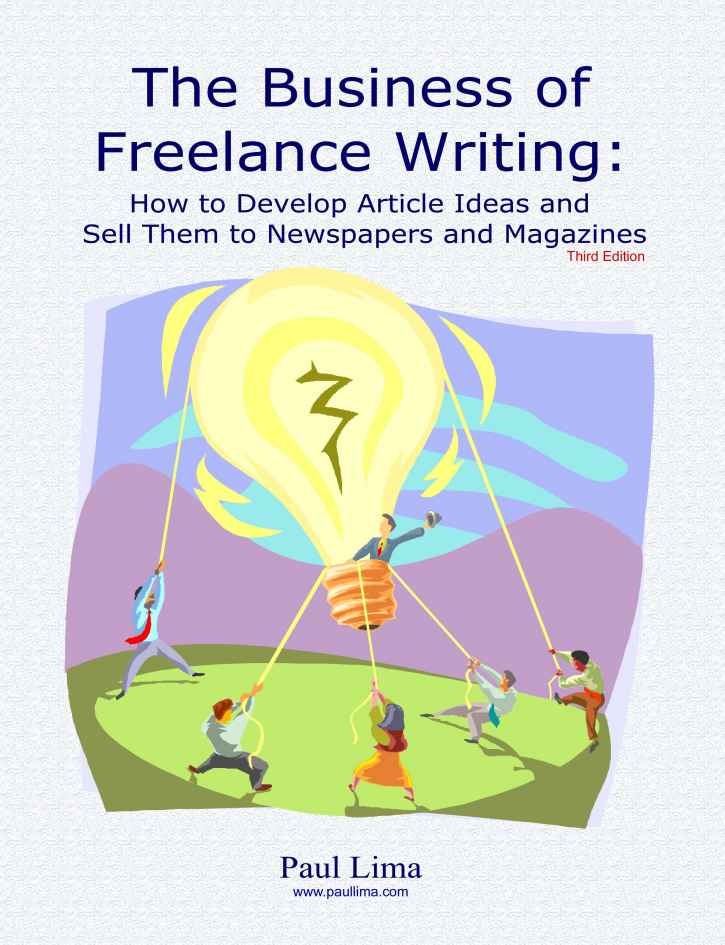 If you want to develop article ideas and sell them to newspapers and magazines, then this is is the place to start!
The wisdom in Paul Lima's books made my dream of being a 'mompreneur' come true. His practical freelancing tips helped me build a business around my passion for writing and editing. I feel exhilarated! - Lisa Goller

I have had great success with queries, much to my surprise. Editors respond and I have sold a few pieces. My biggest coup so far has been selling a 1500 word piece to Canadian Living for $1200.

- Bill Templeman
"Paul's book is straightforward, concise and easy to comprehend. I used it in the preparation of the pitch and I immediately landed an assignment for the Toronto Star.
Business of Freelance Writing
is a worthy publication and should be part of any budding writer's resources."
- Tricia Chapman